Einladung zu Gruppendiskussionen zur digitalen Lehre
25.03.2021 -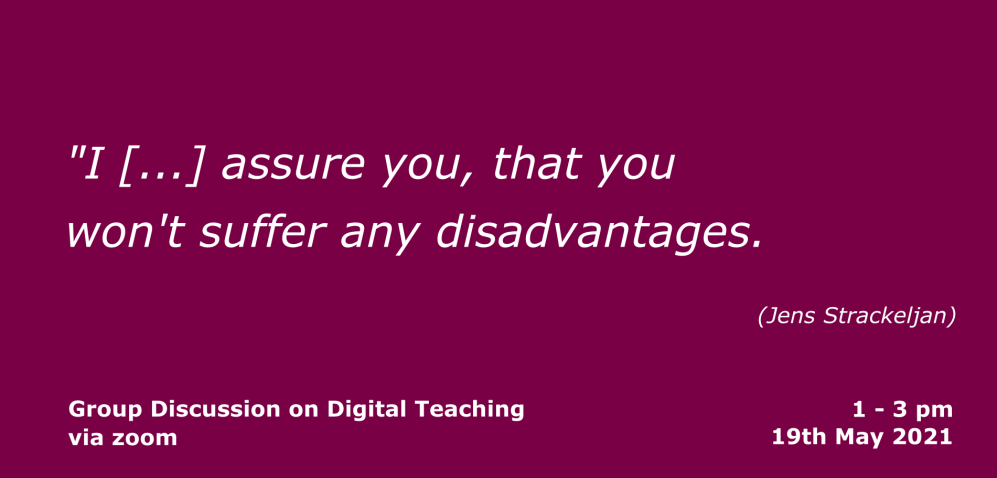 Dear Internationals,
we look back on an unusual academic year and the next months tend to be as unusual as the last year. One of the biggest challenges for students as well as teachers through this time might have been digital teaching.
For our research project we want to know how you experienced the pandemic and its implications on life at university. In addition we want to discuss with you how a successful digital teaching can be achieved in future.
There have already been three group discussions in German, but we are also interested in an international perspective on the topic and therefore want to have one in English too.
We are searching 5 participants for an English group discussion on 19th of May 1pm to 3pm.
The discussion will be roughly structured into three topics:
How did you approached digital teaching during the pandemic?
How did the teachers performed in digital teaching?
What do you think should (digital) teaching be like in future?
For being able to take part in the discussion you must have actively studied at OvGU for at least one of the past two digital terms.
If you are interested please write us a mail (Gruppendiskussion_DigitaleLehre@web.de) providing us with the following information:
Name
Study programme and faculty
Because we want to discuss in as diverse, heterogeneous groups as possible we don't accept registration of already existing groups.
We are looking forward on having an interesting discussion with you!